Ensembles
Music Ministries
Learn More & Join Us!
We hope that you will consider joining the dynamic music ministry here at FCCH! To express interest in one or more of our ensembles, click the button below.
Chancel Choir
Our most prominent choir in the music ministry, this talented group, directed by Dr. Jon C. Peterson, sings a wide variety of repertoire, ranging from early polyphony to contemporary choral music. The Chancel Choir requires a reasonably serious time commitment to weekly rehearsal and regular service singing. However, short-term & seasonal participation is also a welcome option for many singers. Please sign up today and join us on Wednesdays, 7-8:30 p.m.!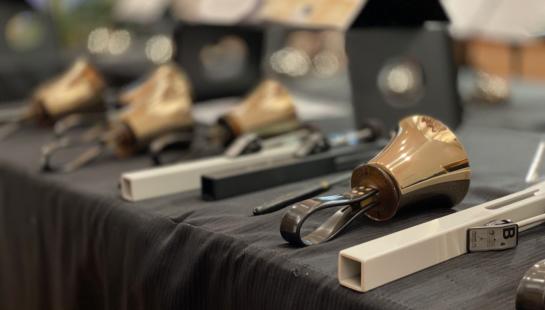 Sanctuary Bells
With five full octaves of handbells and two octaves of hand chimes, this intergenerational ensemble welcomes ringers of all skill levels — from advanced ringers to beginners that are eager to learn. Participants are invited to engage in an ongoing or rotational capacity, rehearsing on Wednesdays at 6 p.m.
Men's Ensemble
Directed by Dr. Jon C. Peterson, our Men's Ensemble rehearses on a rotational basis (typically only a 3-week commitment) with the opportunity for men to sing together. If you are a man who loves the rich sound of men's voices, you will love this group. Join us on select Wednesdays at 8:30 p.m.!
Women's Ensemble
Directed by Charlotte Beers Plank, our Women's Ensemble is a low-commitment, high-enjoyment musical & fellowship opportunity. The ensemble rehearses on a rotational basis. It's not only a place to come together to sing beautiful harmony, but also a safe and supportive community. If you're looking for a way to reconnect with your creative side, meet new people, or try something new, please join us!
Memorial Choir
This select ensemble provides musical support for memorial services and other special liturgical events throughout the year. Their repertoire includes a variety of styles of advanced sacred choral literature. If you are interested in this ensemble, please contact Dr. Jon C. Peterson.
The 11:25 Band
The popular 11:25 service features a professional rhythm section. The service is uplifting, concise and very fresh. If traditional music/worship is not your thing, try 11:25.  Contact Chelsea Selvaggio for more information.